According to the FBI & ATF Bomb Data Center, "trained bomb dog teams are so valuable an asset that they should be used for searches whenever possible." Click here for info on Homeland Security.
Please contact Chris Byrne at 860-491-2202 for emergency or contract explosive detection services.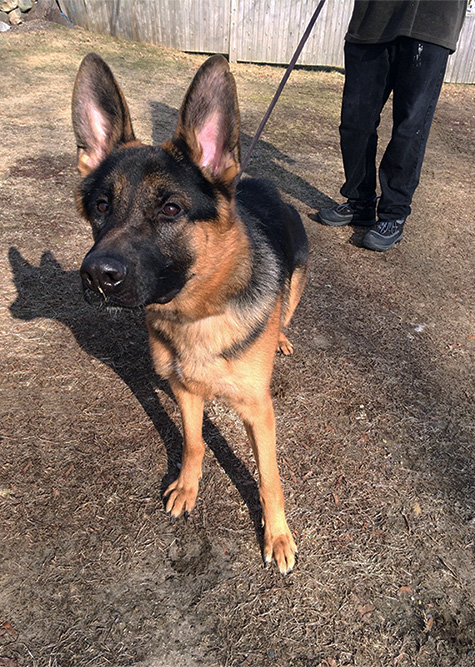 Few criminal acts create such concern and fear in the hearts of a nation's citizens as a bombing. It is no coincidence that organized crime and terrorist groups routinely utilize explosives as a means of achieving their violent goals. According to the FBI Bomb Data Center, 8 bombings occur in the United States every day of the year. Whether the objective is murder, intimidation, extortion or governmental and corporate disruption, the bomb is a favorite and very effective weapon of the criminal element. Clearly the most effective countermeasure to the use of explosives is the deterrent value and the detection capabilities of a properly trained and certified Explosives Detection Dog Team.
Our professional staff has the experience to protect large and small sites during times of peace and chaos. Whether your facility is a small corporate building, a mass transit hub for rail or air service, or a large facility covering acres of land we can assist you in protecting your assets.
Explosives Detection Dog Teams (EDD) fill three distinct roles in operational security:
1. Deterrent
Public knowledge that EDD Teams are assigned to a corporate or government facility acts as a deterrent to persons who may attempt to use explosives illegally. This reduces the tension and concerns of clients, tenants and employees.
2. Searches
Utilizing the canines' superior sense of smell, a well-trained EDD team can conduct a significantly more effective search of any facility that may have received a threat, in far less time than almost any number of people. Using EDD teams also helps to reduce the risk to persons who otherwise would be searching without the benefit of the dogs' unmatched sense of smell.
3. Investigations
With the ability to locate weapons, ammunition, explosives and fireworks, EDD Teams help schools and businesses deter school and workplace violence by performing random monthly searches.
Our dog teams have protected National Landmarks, Fortune 500 Companies, Federal Office Buildings, and Municipalities. Following the terrorist attacks of September 11th 2001 on the World Trade Center (WTC), our EDD teams were chosen by the Federal Emergency Management Agency (FEMA), the New York City Office of Emergency Management (OEM), and the New York City Police Department (NYPD) to protect the support sites for the WTC recovery mission.
We pride ourselves on implementing the strictest standards, the finest dogs and the most professional handlers available. Our staff brings many years of Law Enforcement and Military experience to meet our clients needs.
We have been supplying K-9 Services in the New York Metropolitan area since 1988.
Bomb Detection Services / Threat Assessments
24-Hour Special Response Teams (SRT)Drug Detection Services
K-9 Security Patrols
Security and Investigations
In the days following 9-11-01 our bomb Dog Teams assisted the NYPD by providing emergency responses teams to bomb threats at the following noted locations; CNN, NYC Public Library, FOX News, Grand Central Station, Macy at Herald Square, Israeli Embassy, Empire State Building, Rockefeller Center, Federal Plaza, Bowling Green, Penn Station, Pennsylvania Hotel, and countless others.
The Explosive Detection Dog Team is a highly accurate, mobile and effective defense against attempted bombings with conventional explosive materials. Our Teams are available for short or long term deployment within the United States and internationally.