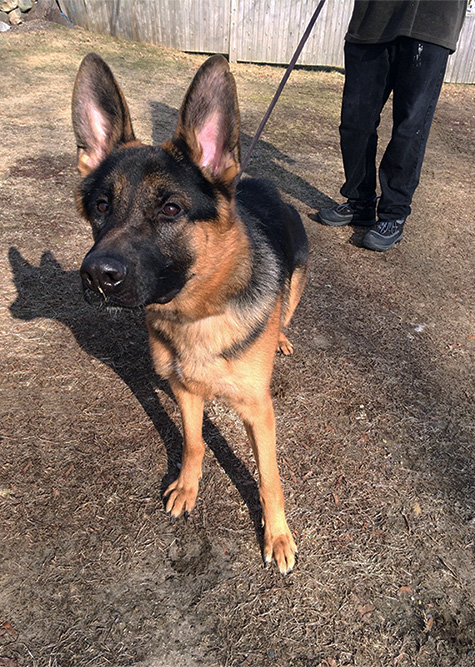 The frightening truth is that Drug-abusers cost American employers more than $300 billion dollars annually in lost productivity, sick time, employee theft, workplace accidents, workplace violence, workman's compensation, law suits, and insurance claims. According to O.S.H.A. 65% of all work related accidents are the direct result of substance abuse. According to the D.E.A. 70% of drug users are employed and 35% of all cocaine users sell drugs to co-workers to support their own habit. With Courts increasingly holding employers responsible for the actions of employees under the influence of drugs and alcohol, it is important to put an effective drug-awareness program in place showing you are serious about keeping your company Drug-Free.
Stonehill Kennel L.L.C. offers various drug detection programs for any type of business, whether you are a corporate headquarters or a small industrial business we have a solution to your drug-awareness needs. Our dogs and handlers are available to respond to an immediate problem or to make unannounced sweeps of parking lots, locker rooms, factories, warehouses, classrooms and offices. We will be happy to tailor a program to meet your budget and your needs.
Utilizing our Narcotics Detection Dog Teams in your Drug Awareness Program will have a bigger impact then the intrusive and costly measures requiring doctors and labs. We can assist you in your drug awareness needs for private companies, School systems, Rehabilitation centers, Utility Companies and more. Each dog is trained to detect: marijuana, cocaine, heroin and methamphetamines through their superior sense of smell.
The courts have generally agreed that the use of trained narcotics dogs to sniff objects, as opposed to people, is not a search within the meaning of the Fourth Amendment and thus requires no level of suspicion. School officials therefore may use trained narcotics dogs to sniff objects that are not affixed to, or carried by, an individual student, such as lockers, desks, student vehicles parked in school parking lots, or any articles of personal property that have been discarded or abandoned. If the dog alerts them to a particular locker or vehicle, school officials then will have satisfied the reasonable suspicion requirement that justifies a more thorough search to determine whether in fact drugs are present.
REFERENCES
Dogs Unlimited has provided dogs and services to many national and international corporations in Connecticut and the New York Metropolitan area since 1988. Our distinguished clients include, Government Defense Contractors, Public and Private School systems, Transportation Authorities, Police Departments, US Department of Defense, Security Companies, Private Investigators, Oil Companies, Health Care Facilities, Convention Centers and more.