In-Kennel Dog Training Program
This is our most popular and convenient program. Our In-Kennel Dog Training Programs offer our busy clientele the best training results in the shortest amount of time. Your dog is boarded and trained daily at our country facility for about 6 weeks. Many consider our In-Kennel Dog Training Program a "K-9 BOOT CAMP" for dogs and puppies.
Utilizing our motivational training techniques, we create dramatic and lasting change in the behavior of our clients' dogs. Through our many years of training and research we have developed fair and balanced methods of training that allow us to cause real results with all dogs. Our Specialty is rehabilitating the behavioral problems that most trainers are unable or unwilling to take on. Our professional staff welcomes those challenges.
Don't live in our area? No problem. We have trained and sold dogs in 47 states and 10 countries. We will gladly assist you with shipping arrangements for your dog from any location. We can even send one of our staff trainers to your home upon completion for a few days of training (for an addition fee). WE ARE HERE TO MEET YOUR NEEDS.
The following is a description of our In-Kennel Dog Training Program. Please contact Chris Byrne at 860-491-2202 Ext. 1 anytime so we can explain our program in detail and answer all your questions.
6 Week In-Kennel Training Program
Program fee is $6500 plus tax
The following is a Description of our In-Kennel Training Program: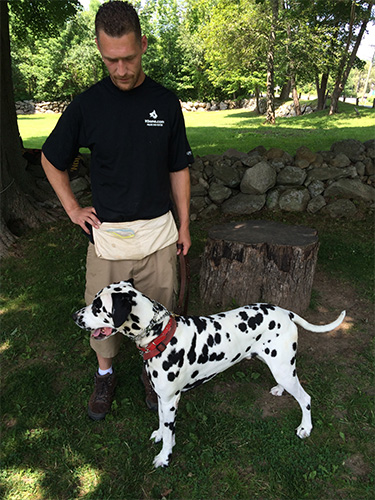 Attention: Our attention getting exercise teaches each dog their name and to look directly at you each time you say their name. This lays the foundation for everything else you will ever request of your dog. If your dog is paying attention to you, you can get him/her to perform anything within their ability.
Leash Manners: This teaches dogs to work properly and confidently on a loose leash. Preventing unwanted pulling and jerking is often a concern of many dog owners. Teaching dogs not to jump up on people is also covered during this training phase.
Sit/Sit Stay: Dogs are trained to sit quickly on the first command and must stay until released or asked to perform another task.
Down/Down Stay: Dogs are trained to lie down quickly on the first command and must stay until released or asked to perform another task.
Come: The dog must come and sit directly in front of the handler when given the command to do so. The dog must stay sitting until released or asked to perform another task.
Heel: The dog will walk on the left side of the handler and turn or change pace as needed. The dog will sit when the handler comes to a stop.
Release: Everything that has a beginning must have an end. That is why each dog is trained to the "FREE" or release command. When the dog has completed an exercise, he/she is given the release and may move around at will, providing they do not pull or jerk on the leash.
Climb: This exercise teaches the dog to climb onto any object and remain there until released. If you are visiting the Veterinarian, the groomer or simply taking a ride in the car, just ask your dog to climb onto the seat or on to the table. They will remain there until released.
Place: The dog is trained to go to a crate or placemat and remain there until you release them. This is very helpful when someone unexpectedly arrives at your door. Simply point to the mat and tell your dog PLACE. They will run to the mat and stay there. Going on a picnic? Take your dogs' mat and enjoy the day with your dog, not searching for him.
We start by turning each command into a reward-based exercise. Training is conducted in a controlled environment until the dog clearly understands what is expected of them. Then, we gradually introduce environmental distractions to ensure they will perform in the presences of people, cats, traffic, other dogs etc. We even have chickens, ducks and goats on our property to create heavy environmental distractions. Finally, we proof the dogs with resistance training. This teaches the dog that when given a command they must follow the command under all circumstances and distractions.
Off-Leash: Not every dog is capable of off-leash training, so our goal is to bring every dog to their personal best. A very high percentage (better than 80%) of dogs entering our program do leave here off-leash trained. Off-leash training has much more to do with the relationship between the dog and owner than training of the dog. Our staff will work with our clients to get you the best result possible.
Program Duration: While this program is designed as a 6-week program some dogs may require a little more time. We do not rush or force dogs, they must learn at their own rate. Unless you have requested training or services outside of the scope of training outlined above you will not be charged for these additional days.
Obedience Program Fee: The cost of this program is $6500.00. This fee includes six weeks of Boarding, Training, equipment fees and 6 private training sessions at our facility. Payment is due in full at the start of the program by cash, check or bank transfer or credit card.
Crate Training Fees: Mandatory Crate Training of puppies under 28 weeks of age will be charged $1500 crate training fee to establish or maintain good house breaking habits while in training.
Behavioral Fees: Dogs with behavioral issues from anxiety, separation anxiety to aggression towards people and other dogs and everything in between will be charged between $1500 to $3000 on top of the obedience program fee. Some dogs we will know this when they enter the program based on the dog's history. Some dogs we may not know until we are working with them and discover their triggers working around distractions and doing obedience in a more strictly organized and structured way.
Special Notice for owners of coated dogs. We do not have a groomer on our staff. It is our recommendation that coated dogs get a puppy cut or shave down prior to attending training. We do not have the staff to support daily brushings of hair or teeth. All dogs in training are kept clean, bathed as needed and brushed at least once weekly. This is not enough to maintain coated breeds and they may get matted hair and knots in the kennel setting. We are happy to transport your dog to one of the professional groomers we use while we have your dog in training. This will be done as needed or based on your interval recommendations. This will be charged as an additional fee at the end of training.
Owner participation: Owner participation is required for success of this program. Six private training sessions at our facility in Connecticut are included in the package price. We highly recommend that you take full advantage of these sessions. Your dog will be trained for life, you must learn how to handle and maintain your dog's training for maximum benefit. On-site delivery of dogs is available for an additional fee.
Click here to fill out a form and receive more info.
Requirements: All Dogs must be at least 8 weeks of age and in good health. Current Veterinary records must accompany all dogs. Dogs over 12 weeks of age must include a rabies certificate. Stonehill Kennel has several long-term relationships with local veterinarians and emergency veterinary hospitals. Should your dog require any vaccination updates of other veterinary care we can provide that on your behalf. All veterinary bills must be paid in full before dogs complete training and are picked up by owners. Every dog must have a dog license issued by their local town or county clerks office.
After you have completed our Board and Train Program
Dogs that have completed our 6 week In-Kennel Training Program are entitled to a special rate of $105-$135 per calendar day for Boarding and tune up training sessions daily. This would not include teaching new or different exercises from the original program. Please contact our training staff for information on teaching new exercises.
Note on Young Puppies: Previously we required that all puppies must be a minimum of 4 months of age before beginning our In-Kennel Dog Training Programs. After about 10 years of providing this program we had many past clients that requested we take their new, 8-week-old puppies for training and housebreaking before they take their new puppy home. We reluctantly agreed and the end results were remarkable. Because we can imprint these puppies at a very early age and can influence the early development stages of life, we even surprised ourselves with the dramatic results. To learn more about starting your puppy off right, please contact Chris at 860-491-2202 Ext. 1. All dogs under the age of 6 months are required to be crate trained at an additional cost of $1000. This will instill or maintain house breaking habits to keep your puppy clean in the house when they return home.
What to bring: We will provide everything your dog needs to stay comfortable and well fed during their stay. You may bring food from home or we will provide a professional diet dog food. Should you request your dog receive food supplements or medication during their time with us we will gladly comply with those needs. We recommend you put your dog on a Flea and Tick program as we may be taking your dog on hikes and field trips in the last stages of training. We do not recommend you bring bedding or toys as these will be provided. When dropping off your dog do not leave your leashes, collars, bowls, toys or any other items. We cannot be responsible for any items left at the kennel.
Separation anxiety: No, not your dog, but you. Many clients are concerned that their dogs will not remember them or will become overwhelmed by home sickness. This is never the case. Children often spend more waking hours with teachers then with their parents, yet they never forget where home is. During training the dogs are well cared for, very active and enjoy the training experience. After all, every breed of dog that exists today has been selectively bred because they served a purpose in the service of man. They all had jobs. Today dogs that are not trained will develop behavior problems and issues. The reason is most often because they need some form of discipline, education, structure and purpose in life. Obedience replaces that feeling with a sense of self-value and purpose. As for you, rather than dwell on how much you will miss your beloved companion for a few short weeks, consider the years of pleasure you and your dog will gain through professional obedience training. There are few things in this world as impressive as a well-trained dog, working in harmony with their owner.
Guarantee: We guarantee that your dog will know, understand and retain for life the exercises outlined in the program you chose (4 or 6 week programs only). If for any reason the dog does not understand or remember the exercises taught to them, we will work with you and your dog to fix the problem with no additional training fees. That said, we have never had a dog come back for lack of training. However, we do have clients that have forgotten something we taught them or stopped working with their dog and find themselves in need of a little refresher. We are happy to do that.
Reservations: Due to the nature of this very personalized service we offer a limited number of In-Kennel Dog Training Programs each month. During our busy season we may have a waiting list for a spot in our In-Kennel Dog Training Programs so please book early. Admission is rolling so as space becomes available, we fill those spots. If you are dealing with a serious behavioral issue, we can usually get you in right away. We specialize in resolving serious behavioral issues including aggression, dominance, destructive behavior, separation anxiety and more. There is a behavioral fee of $1000 for dogs with more serious behavioral issues.
You must first contact our office by phone or email to determine availability and we can give you a start date. Because of limited space we will not reserve a training spot until we have received your deposit.
Call now to reserve your dog's spot:
860-491-2202 in Connecticut
888-364-6673 Toll Free
Email us at chris@k9one.com
Request more information and tell us more about your dog by clicking here.