Life's Abundance premium health food for dogs and cats.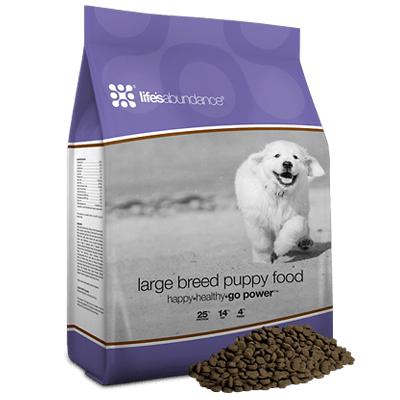 Nutrition may have a bigger impact then any other outside influence to your dogs health and longevity. Being a dog sport competitor I know the importance of a healthy diet for my own dogs. I have long been a cheerleader for the raw food diet or B.A.R.F. (bones and raw food) diet and recommended it to many of our clients. The problem with the raw diet has always been it is complicated. Dog owners must have enough freezer space and remember to defrost food everyday. The cost, weight, space, and for some the odor are more then many are willing to deal with.
After years of research I am happy to announce that we have found an excellent alternative to raw… Life's Abundance premium health food for dogs. Other than treats, your dog eats the same food day in and day out. So the brand of food you feed your dog is important to a long and healthy life.
Our preferred variety of the Life's Abudance foods is the "All Life Stages" Formula.

Life's Abundance Premium Dog Food is made using only high quality ingredients. It is a nutrient dense food with high quality meat proteins and NO by-products, corn, wheat, gluten or soy. NO artificial flavors, colors, sugars or chemical preservatives.
Take a few minutes now and learn how you can add years of healthier living to your best friend's life.
---